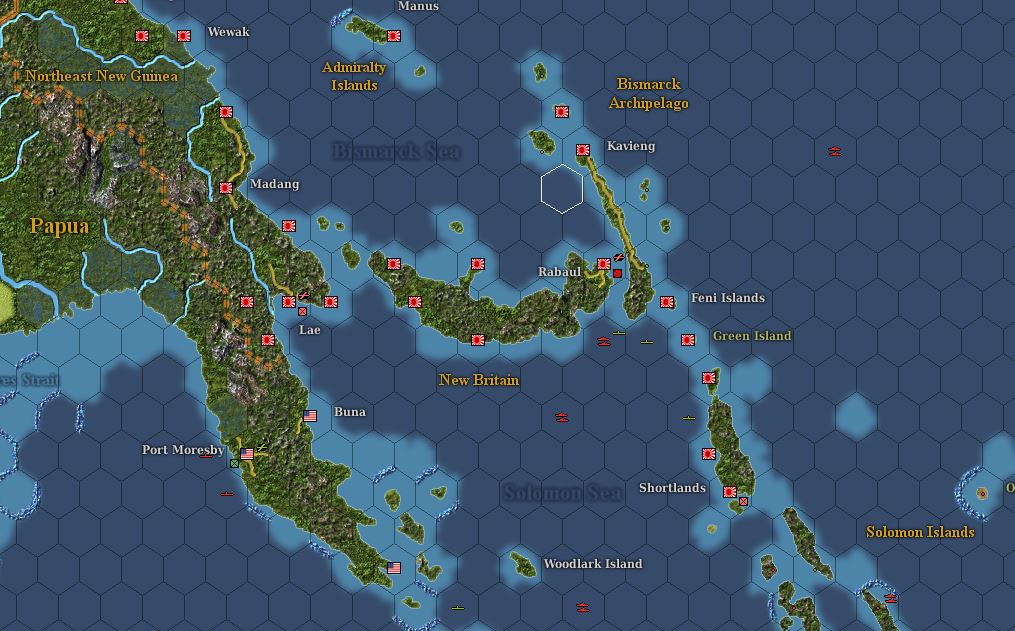 The Solomon Sea, mainly under Japanese control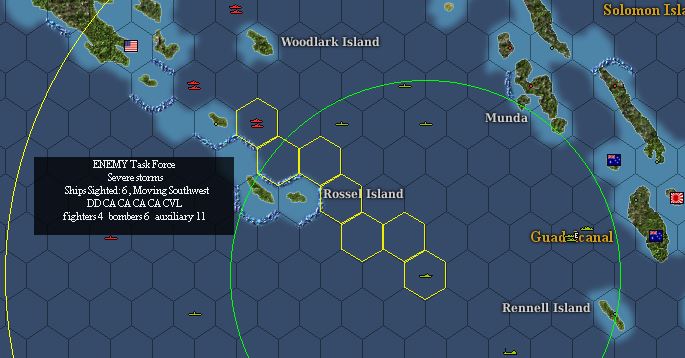 Moving TF17 directly into the enemy Task Force. A dangerous move,
but it may result in the sinking of the enemy CVL (in this case, IJN
Shoho)
The Coral Sea: a big body of water near Australia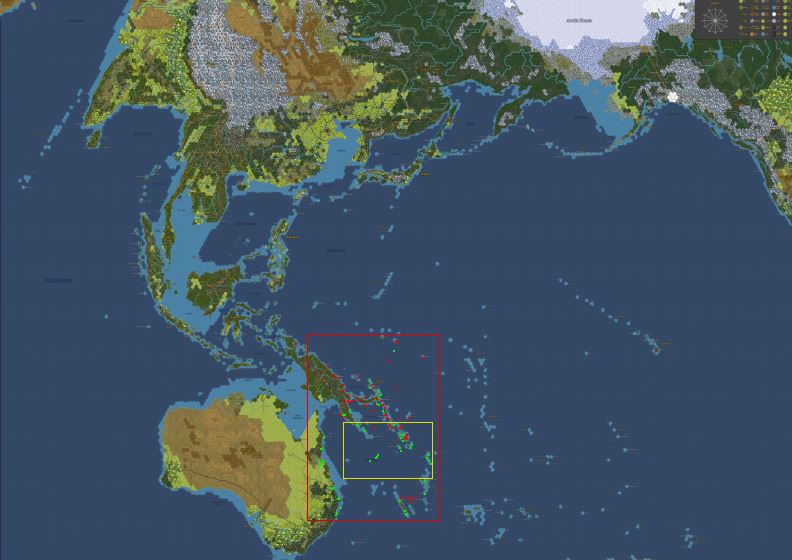 The entire game area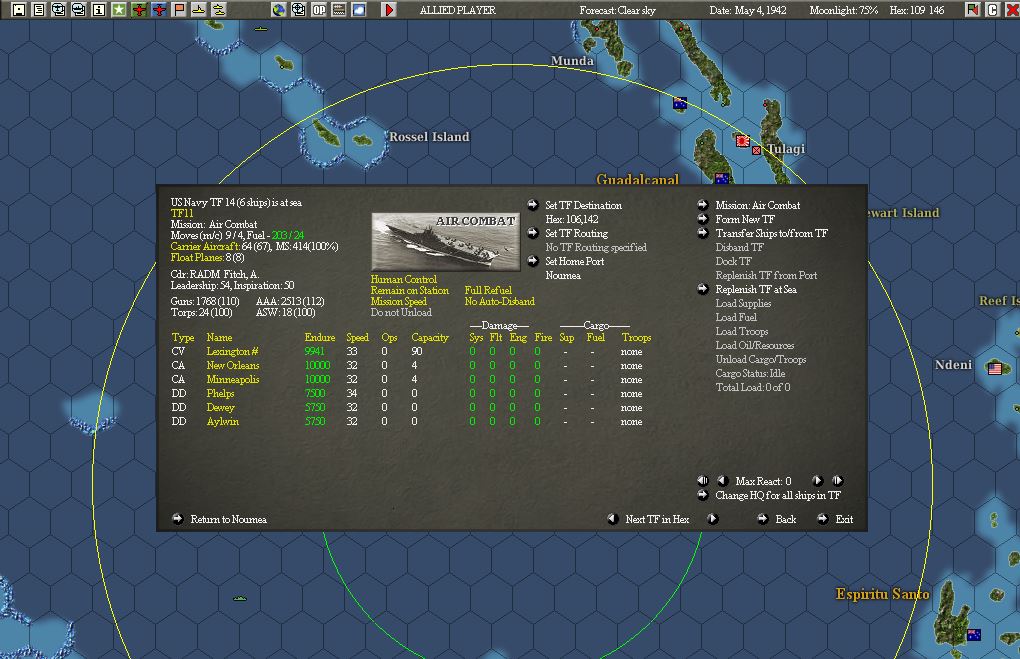 Finetuning the Task Force built around the Lexington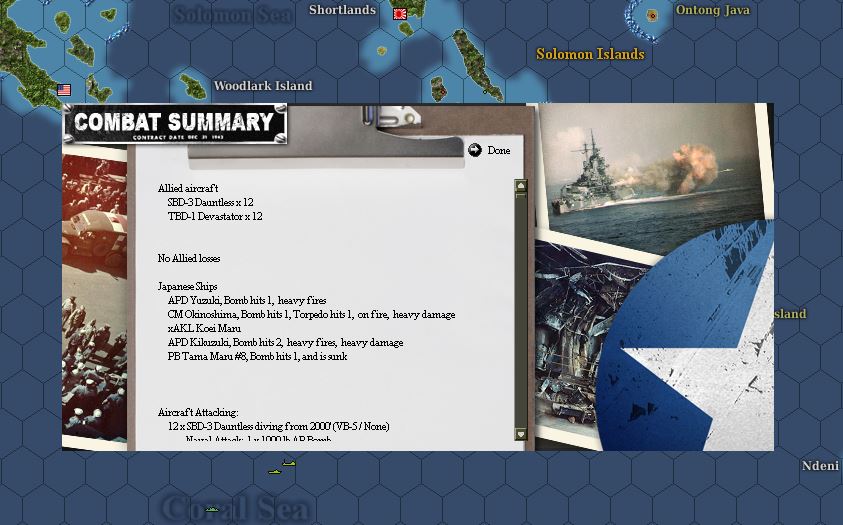 A combat report. Many Jap ships damaged and even one sunk
War in the Pacific
General informations
War in the Pacific is a 2004 campaign-level strategy game set during WW2 in the Pacific. It's released by Matrix Games and costs a bit less than $80, because it's such a niche game, and wargamers usually know they'll get the most out of this type of game so they don't hesitate to pay that much.
In 2009 War in the Pacific Admiral's Edition has been released, an essentially updated version of the original game (better graphics and resolved bugs).
Gameplay
Unlike other turn-based strategy games, in this one the Allies and the Japanese give their order each during their respective turn, but only AFTER they've completed their turn, the game processes all the order and the time really unfolds, and the different operations get resolved (combat, transport, etc). That way it's much more realistic without losing the benefit of turn-based gameplay. This is an elegant solution that I think should be used in more games of this genre.
Unlike most other strategy games, you do not order your units to specifically attack an enemy unit; instead you assign a mission to each of your task forces (Air Combat, Replenishment, Sub Patrol, Escort, Mine Laying, Transport, etc), then the TF's AI tries his best to make the most intelligent choice. For exemple if a TF built around an aircraft carrier is set to Air Combat, when it will spot an enemy formation, it will try to engage it with its available air groups. Now, there may be a way to direct an attack on a specific enemy unit, but I don't know it yet.
Combat unfolds as small, fast animations in the right half of the screen. Each time a bomb is dropped on a ship it has a chance to miss its target, to explode below deck, etc, making the outcome often unpredictable. After each skirmish a "combat summary" is presented to the player, where every unit that participated in the fighting is listed along with its fate, should it have been damaged or sunk or shot down or whatever.
The game is mainly played from its menus, which can be scary at first, but fortunately the interface and the many screens are pretty self-explainatory. Plus there's always the 200-page but pretty colorful manual to help the desperate player.
Mindset
This is a very deep game, and each campaign game can last several days, and it's not like Advance Wars where making a mistake is not game-breaking; here the player has to be very careful about their actions.
Fortunately, there are smaller scenarios that allow beginners and players who just want to have some fun to jump directly into the fray without having to fear losing three days of painful progress through the Japanese (or the US) lines. For those people, it's best to jump in and try stuff and not be playing "to win". It's also a good thing to be ready to lose two carriers in 15 minutes of gameplay. This game seems pretty luck-based at times.
Advice
It's strongly recommanded to switch the music off. Some tracks fit the mood very well while other can seem out of place.
In the options it's possible to reduce the time it takes for combat to unfold. It can also be turned off but I won't recommend it because it's easy to lose track of what happens when nothing happens onscreen. It's generally a good idea to change 1 sec to 0.1 sec for every type of combat (navy vs. air, ground vs. ground, air vs. air, etc). That way the player can clearly see when combat happens, without having to suffer through five minutes of low-quality sound effects.
Referring to the instruction manual can be a good idea
Playing in windowed-mode is also recommended. That way there's no screen distortion and the .pdf manual can be accessed more easily. It also makes the overall interface less daunting. Windowed-mode can be achieved by launching the game executable via a shortcut with the added -w line parameter.