Language
---
This is a page about languages in AUSI, meta and otherwise
Caption
In all USIs (to date) characters speak using language. Most of these, if not all, have made-up names but they're all based on real languages.
Meta-speaking, every USI has an official language, generally French or English. That means most of what is not deprecated should be written in this USI's official language -- this rule itself is pretty much already deprecated, this wiki is proof of that.
Official languages for each USI
---
Each USI has an official language in which every document related to this USI should be written. Even if this rule is far from being strictly followed, it still exists and is theoretically in effect. Documents can be written with any writing system as long as it is still phonetically relevant to the official language of the USI in question.

Official languages for each USI
USIO : French
USI 1 : ---
USI 2 : English
USI 3 : French
USI 4 : Various*
USI 5 : French
USI 6 : Various*
USI 7 : French
USI 8 : ---
USHS 1 : French
USHS 2 : Various*
MDC 1 : French
MDC 2 : ---
MDC 3 : ---
*Various means the languages used in the USI by the people and characters themselves are all considered official languages of this USI here in USIRL.
Languages spoken in USIs
---
Languages used by people and characters in USIs are generally one of the following : French, English, Czech, Chechen, and in USITEMP Japanese. Made-up languages are rare (one could even say non-existant).
French, English, and Czech are written with the Latin alphabet; Chechen is written with the Cyrillic alphabet OR the Mkhedruli (Georgian alphabet), and Japanese is written with katakanas, hiraganas and kanjis.

Languages spoken in the USIs
USIO : All USIRL languages. People across the Milky Way speak French, and it is known (even if by only few people) that it is a language from Silon. It's real French.
USI 1 : ---
USI 2 : People speak English.
USI 3 : People speak various languages but the main language for communication is French, even if it is not known by this name.
USI 4 : All USIRL languages. Noelists speak French and British speak English. Communication between OFELL/OAUCTAN people is in English, even if the acronyms are in French.
USI 5 : People speak French in Silivia and in Elidia, and possibly in Resilia; Czech in South Fedaria; and Chechen in North Fedaria (Austeria).
USI 6 : People speak French in Mycelia and in all of Africa, which has French as its official language. French is actually called Mycelian in USI6. Mycelian has a different orthography than standard nowaday French (see article here).
USI 7 : People all speak French, even if it is called Vendartorian by the people of this USI.
USI 8 : ---
USHS 1 : Characters all speak French, but this is not as relevant or important as in other USIs.
USHS 2 : All USIRL languages.
MDC 1 : People speak French in all countries.
MDC 2 : ---
MDC 3 : ---
Writing systems
---
When it comes to USIs, most commonly used writing systems are the Latin alphabet, the Cyrillic alphabet, the Mkhedruli alphabet and the Japanese writing system. In USI6 African people write Mycelian using the Mandombe script.
See the following chart :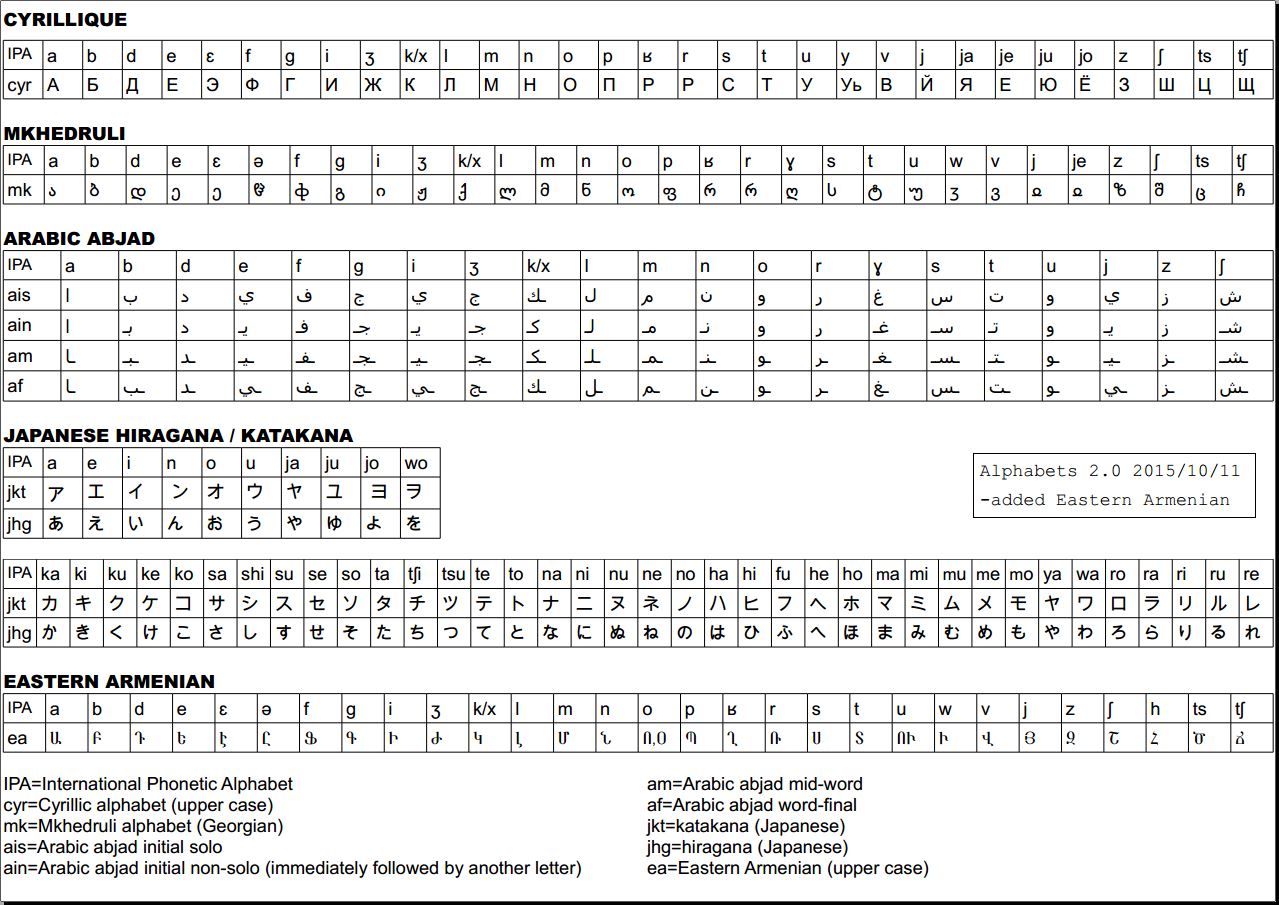 See also
---
Megahome
Credits for the column layout: Dynamic Drive CSS Library